NEW Character Karaoke Tag + I Have A New Writing Space!
Aloha, wizards of the Internet! Much like young Daniel in the unfortunate image above, I've gone a long time without uploading and come back with a tag (comment if you're special and get the reference), and there's no other explanation than the following: studying, exams (which have officially ended so expect more regular posting *finally*) and packing for my holiday abroad which I AM BUZZING ABOUT ASDFGHJKL -
But anyways, let's get back to what's really important, shall we? I speak of course about the resurrected Character Karaoke Tag, coming to a computer screen near you! *finger clicks*
First, a little recap: The Character Karaoke Tag focuses on music + writing, and how we use certain songs to apply to certain things within our writing. Also, it is a chance to discover new music and gain a deeper insight into the emotions that go into both the songs we listen to, the scenes/characters we write and our interpretations of them.
But hey, enough rambling. Let's get this party started.
RULES:
Link back to the blog of whoever nominates you (because being polite is cool)
Answer the questions
Nominate some friends to participate!
Now for the questions!
Aww, how sweet! It's your OTP's wedding day...what song is playing during their first dance?
I LOVE EURIELLE and this song perfectly describes the relationship between Dane and Lex, especially the lyrics I've included below. I think this would definitely be their wedding song, no doubt.
Significant Lyric:
Since the first time I saw you, I knew // The shadows in your heart withdrew // Though the world grows darker every day... // Nothing can dim or extinguish this flame // Ignited long ago.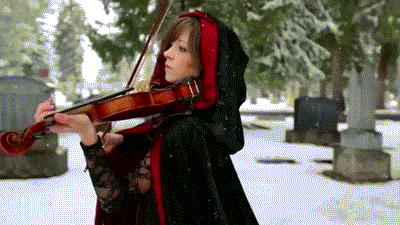 Do any of your characters play an instrument/have a special relationship with music?
I'm glad you asked (even though you didn't, it was me, I am the ask-er). In These Darkened Hours there is a prince (he's Greek and beautiful and I don't want to harm him but I kinda have to *sobbing noises*) named Dane....he plays the fiddle. Because why the hell not.
No, he actually plays it because he sees music as a slim piece of beauty in a darkened (geddit?) world and it is his chosen form of escapism. He taught himself to play, and I chose this instrument for him because I really like the sound of fiddle music and I have a friend who can play like the fiddle-equivalent of Lindsey Stirling.
What song(s) best describe your protagonist(s)?
First of all, let's talk about Nessa: she's the younger twin and the definition of 'looks like they could kill you and probably would'. She's spent her life bouncing around group and foster homes with her brother, and something happened in one of them that both twins refer to as The Incident. Because of this, the lyrics 'this angel has lost her wings // I'm building a monster // beneath all the scars that you see' are especially poignant. The entire song just seems made for her, and I love it.
Next up for dissection is Lex: he's the eldest Mac Artian twin and an introvert, with a compassionate heart. Although he is known for being gentle, when it comes to protecting the ones he loves and cares for Lex can be ruthless. That's why this song describes him so well, as the lyrics 'I fall asleep in my own tears // I cry for the world, for everyone' indicate his compassion and empathy for the world around him, and yet the next lyrics 'I stand behind a crowd of people and thoughts // Mind-controlling // And I hold a sword to guide me' also hint at his more ruthless, calculating side. (Also, 'mind-controlling' is one of his powers so...coincidence I think not)
What's Your Go-To Song For Writing Battle/Romance/Intense Scenes?
Okay, I cheated and picked two songs here. For battle scenes, compositions are my go-to for inspiration and I find them really inspiring. I think it's the dramatic-ness (?) of the music, especially Christian Baczyk's pieces. Necrosis is quite heavy and mystical, which is great for magic duels and battles (which are everywhere in my WIP).
The second piece is a song from League of Legends, and I plan my battle scenes to it rather than listen to it as I write. Nevertheless, it's awesome, and the lyrics just add to the awesomeness and are great for writing inspiration.
Significant Lyric:
We are the ones to ignite the darkened skies // The champions of a world that we defy // A solemn reign of the few who rise up high // And we all fight // At the last light
Well, that was fun! I forgot how much I enjoyed doing these things: and now, I'm going to force others to do the same because I'm nice like that.
Have fun!
- Sunset xx

P.S - I got a new writing space! It's cosy and small and I'd live in it like a hermit if I could.